Wharton students enrolled in degree-granting undergraduate, MBA, and doctoral programs may purchase "academic cards" from Wharton Printing.
Jane R. Wharton
MBA Candidate
Class of 2016
current address
123 Street Address
Philadelphia, PA 19104
+1.215.555.1234 phone
+1.267.555.5678 cell
janer@wharton.upenn.edu
permanent address (optional)
123 Street Address, Apt #
City, State, Zip
Country, Code
+1.215.555.1212 phone
Example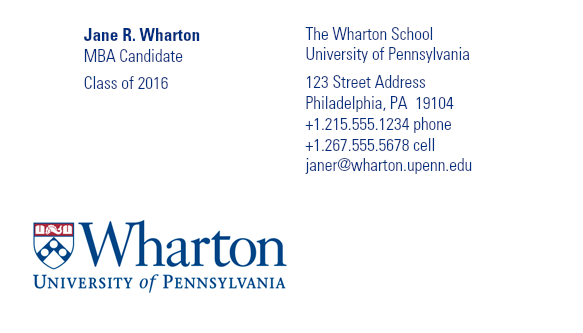 Language for Academic Cards by Progam
UNDERGRADUATE DIVISION
Full-time day program
BS Candidate  or BS in Economics Candidate
Coordinated dual-dregree programs
Student Name
Management Technology Program
Class of 2016
BS Candidate, Wharton
BSE Candidate, Engineering
Other dual-degree programs
Student Name
BS Candidate
Or
Student Name
BS in Economics Candidate
Class of 2009
BA Candidate
School of Arts & Sciences
GRADUATE DIVISION (MBA):
MBA CANDIDATE
Dual-degree programs
Student Name, Professional Titles
MBA Candidate
Class of 2016
JD Candidate
The Law School
Lauder Students
Student Name, Professional Titles
Lauder Institute of Management
and International Studies
Class of 2016
MBA Candidate, Wharton
MA Candidate, Arts & Sciences
DOCTORAL DIVISION
Doctoral Division: Name of Division
PhD Student in Marketing
PhD students are also allowed to add their departmental office address.
Can I Get a Wharton Academic Card?
These cards clearly identify students as "candidates" in their respective degree-granting programs at Wharton and are not intended as vehicles for citing specific concentrations or positions within student organizations. Doctoral students who are accepted into specific departmental programs do cite their departmental affiliation.
Academic Cards are strictly designed to reflect your Wharton School affiliation. Any other academic program cards are to be obtained through the services offered by the Penn school offering the program. Wharton cards may not carry two school logos.
How Do I Order My Academic Card?
Wharton Printing is the only authorized printer of Wharton academic cards. No unauthorized stationery (this includes academic cards, letterhead, and envelopes) may be printed using the Wharton School name and/or logo. Personal business cards printed elsewhere cannot duplicate the Wharton School name or logo and are in potential violation of copyright.
Students place individual orders with Wharton Printing on its website. All orders are processed on Bursar billing to allow confirmation of a student's status in a degree-granting program.
Can I Add My Office Address on the Academic Card?
Information on academic cards is strictly limited to the candidate's degree program status and personal address and contact information. Either current or permanent addresses may be included. Professional certifications are allowed only for graduate students, and those standards are maintained by the Graduate Division.